Augustus and Rosanna Ott Abicht/Abbott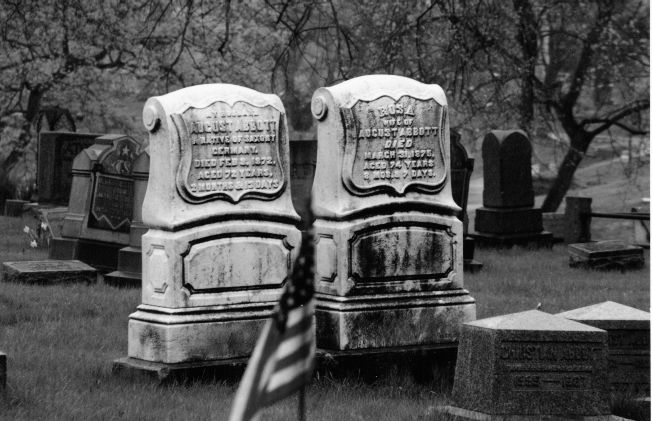 Markers of August and Rosa Ott Abbott, Chartiers Cemetery, Noblestown Road, Pittsburgh (Carnegie), Allegheny County, Pennsylvania.
Augustus and Rosa Ott Abicht came from Saxe Coburg, Kreis of Saxony, Kingdom of Prussia, Germany, in 1835.1 See Saxony in a 1815-1871 map of Germany. Their children, Frederick, Charles, Christian (9 years old), and possibly two sisters, Wilhelmina and Mary, also traveled with them. Christian's son, Edward, passed down the story, in an interview with the Pittsburgh Press in 1937, that the ocean voyage was 6 weeks long and the family traveled from Philadelphia to Pittsburgh in a wagon and on foot. This was the only way of travel at that time. Their route would have taken them on dirt roads over the Allegheny Mountains as they traveled across the state of Pennsylvania, where they settled in Lower St. Clair Township, Allegheny County, near Pittsburgh.
The family name in Germany was Abicht. Augustus signed it this way on his Will in 1870. His son, Charles, signed it this way on his naturalization petition in 1856;and his son, Henry, went by "Allbrecht" at the time of his marriage, and on his Civil War Pension Application in 1880. Henry's, daughter was baptized "Abbrecht" in 1868. Apparently the name was awkward to translate, pronounce and spell so a postmaster in Pittsburgh declared it to be "Abbott."

August Abbott's Signature from his will, 1870.
We don't know if August and Rosa ever moved or whether the different township names reflect the frequent changes of township lines. Their farm was located where the Catholic Church now stands on Green Tree Road. Edward Abbott rented it out in the 1930s and '40s. His grandaughter, Charlotte, remembers accompanying her father, Clarence, to collect the rents. After Edward's death the property was bought by the Catholic church, who erected the church building on the approximate site of the old red, brick house.
The 18402 census shows August Abbet [sic] lived in Lower St. Clair Township with his wife, 5 sons, and 2 daughters. 2 of the sons were working in agriculture. In the "Memoirs of Allegheny County" Edward states, in his own biography, that Christian was a glass worker before he became a farmer. It is possible he worked in the winter for one of the glass companies on the South Side or South Hills of Pittsburgh (then called Birmingham.)
In 18503 Augustus was 51, and his wife, Rosanna, was 49. They lived in Upper St. Clair Township. They had five children living with them at that time: Christopher [Christian], 24; August, 15; Henry, 13; Sophia, 9; and Caroline, 5. Augustus, Sr., Rosana and their son, Christopher, were born in Germany. August, Henry, Sophia, and Caroline were born in America. Apparently Frederick, Charles, Wilhelmina, and Mary had already left home.
In 18604 Augustus, farmer, and Rosean lived on a farm in Upper St. Clair Township valued at $10000 with $500 in Personal Property. Both Augustus and Rosean were listed as 60 years old and born in Germany. Their children: Henry, 22; Sofia, 20; and Caroline, 15 were all born in Pennsylvania. August, Jr. lived in a separate residence with his wife, Caroline, and a 3-year-old daughter named Caroline.
In 18705 August, farmer, (70) and Rosina (69) lived in Greentree. August was born in Saxony and Rosina in Saxe Coburg. Living with them were their daughter, Sophia, her husband, Philip Hetrick, and their children: Emma, 5; Edouard, 3; and George, 8/12. There was also a Charles [Hetrick?}, age 26, born Saxony, listed as a boarder and farm laborer.
Augustus died in 1872 and Rosanna died in 1875. They are buried in Chartiers Cemetery, Noblestown Road, Pittsburgh, Pennsylvania. They had nine children: Charles, Christian, Frederick, Wilhelmina, Mary, August, Henry, Sophia, and Caroline. Information about each of these children is available at The Family of Augustus/August and Rosanna Abicht/Abbott.
Footnotes
1 Compiled from various places given by family members on census records, naturalizations papers, tombstones, death certificates, obituaries, biographies.
2 1840 U.S. Federal Census, Lower St. Clair Township, Allegheny County, Pennsylvania, Reel #137, page 102; Enumerator: George S. Cemahan
3 1850 U.S. Federal Census, Upper St. Clair Township, Allegheny County, Pennsylvania, Reel #748, page 32; Enumeration Date: 6Sept1850 by James ? Glenn?
4 1860 U.S. Federal Census, Upper St. Clair Township, Allegheny County, Pennsylvania, Post Office Mt. Lebanon, Reel #1061, page 45; Dwelling 329; Family 320; Enumeration Date: 19Aug1860 by Jn. Bausman
5 1870 U.S. Federal Census, Scott Township, Allegheny County, Pennsylvania, Post Office: Greentree, Reel #1299, page 1; Dwelling 4 Family 4; Enumeration Date: 1Jun1870 by Wm. Cartwright