Elizabeth Jacob Abbott's Spinach and Dumplings
Elizabeth Jacob Abbott's spinach and dumplings recipe was adapted and handed down by Rose LaValle Donley to Janice G. Donley. Janice remembers tucking herself into the corner, beside the refrigerator, in Rose's kitchen one day in the 1960s as the Abbott sisters prepared Peas and Dumplings -- the way "Mother" did. Each had a different opinion as to what was enough milk, what was too much bread, should there be a little sugar added to the peas, etc. Somehow the dish turned out to be delicious, so whatever their compromise was, it worked! Harold's two favorite recipes that his mother, Rose Abbott LaValle Donley, made when he was growing up were Filled Noodles, and Spinach & Dumplings.
2 boxes FROZEN CHOPPED SPINACH
3 cups of WATER
2 WYLER'S BEEF BULLION CUBES
3 tablespoons CHOPPED ONION
Bring water, bullion, and onion to a boil.
Add spinach and break up with a fork as it thaws.
Cook a minute or two after it returns to a boil.
Draining extra milk from the soaked bread.
Put one SMALL/THIN HEEL OF BREAD in a flat soup bowl.
Add as much MILK as bread will soak up. Drain off extra milk.
Stir and break up with a fork.
Stir in 1 EGG and beat with a fork.
Add 1/8 tsp. SALT and enough FLOUR to make a stiff dough. (Start with 1/3 cup.)
Stiff dough ready to form into dumplings.
If your water has boiled down, add enough boiling water to have at least 3 cups.
(The dumplings will not rise. They are a solid, doughy dumpling. You shouldn't add water after the dumplings are added, but if you have to, make it boiling water.)
Drop by small teaspoons into boiling broth. Cover and cook 15 to 20 minutes.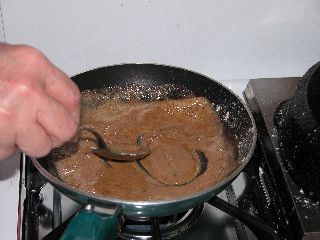 Brown sauce after adding broth.
While spinach is cooking:
Brown BUTTER in skillet
Add about 1-2 tbsp FLOUR
Spoon a little broth into it, stirring constantly.
Add to vegetables and dumplings in pan, stirring constantly.
Cook 1 or 2 minutes.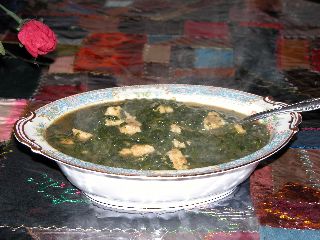 The spinach and dumplings are ready to serve.
Rose and her sisters sometimes used fresh peas with chicken bullion.