Abbott Ice and Packing Plant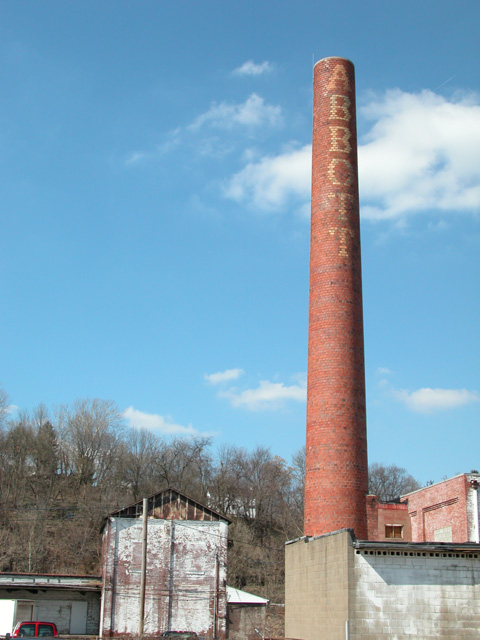 Abbott Ice and Packing Plant site, photographed by Ed Donley, 2004. The word "ABBOTT" is integrated into the smokestack's brickwork. See more photographs taken in 2004 and earlier photos taken in 1970.
1907 - Wholesale Dealers in Beef, Pork, Veal, Mutton, etc. Strictly Pure Artificial Ice
1914 - Wholesale Dealers in Meat and Ice
The Abbott Ice and Packing Plant was organized in 1895 by August Abbott, oldest son of Christian and Magdalena Schmeltz Abbott, and the older brother of Edward Abbott, farmer of Mt. Lebanon. It is not certain what the financial arrangements were, or when they were made. Edward was financially involved in the packing plant, and most likely bought into it in 1908 when the Carnegie-Item reported a large expansion of the Abbott plant. See a sketch of the plant's layout. The City Directories of Carnegie of 1907-08 and 1914-15 show Edward as the president, and August as the secretary treasurer. August's obituary in 1920 says that he "organized" the Abbott Packing Company, referring to it as an "abbatoir" and ice plant. An abbatoir is a slaughterhouse.
August also started a meat market in Carnegie in 1878 and ran it for a number of years. This business was conducted by Charles Beckel in 1920. See its location at Pine and Main streets on an 1897 map.
In 1904, when the Allegheny County Memoirs was published, the ice plant employed 12 men, and had a capacity of 25 tons of ice per day. The plant supplied Bridgeville, Oakdale and surrounding towns. It was a real family business. It provided jobs for both August's and Edward's families for almost 40 years.
A resident of Carnegie, who died in 2000 at the age of 93 recalled that they sold all kinds of meats there; like baloney, sausage, etc. He also remembered seeing them drive the livestock down Jane Street from the P. C. & Y. R. R. [Pittsburgh, Chartiers & Youghigheny Rail Road] station to the slaughterhouse. The train station can be seen on the 1897 map - a couple of blocks to the left of the bridge over Chartiers Creek. See a photograph of a bullwhip used at the packing plant.
August died in 1920, and his son, Florence, operated the packing plant during the 1920s, according to the obituary of his grandson, Harry E. Abbott, who died in 1970. Edward remained involved in the packing company, and after the break-up of his farm in Mt. Lebanon in 1925, several of his sons also became involved. It must have been about this time that Edward became sole proprietor.
Edward's son, Edward Abbott, Jr., died December 1933 and his obituary referred to him as "a member of one of the community's leading business concerns." The article also says "Mr. Abbott was vice-president, sales manager and a director of the Abbott Packing Company at Carnegie and was one of the most active businessmen in this section, being in contact with hundreds of men and women engaged in the distribution of meat products and manufactured ice."
Edward's granddaughter, Charlotte Abbott Dudt, worked selling ice at the plant about 1943-44 while she attended Carnegie-Mellon University (Then known as "Carnegie Tech"). She recalls that 25 pounds of ice cost 15 cents, and 50 pounds of ice cost 25 cents. (That would be $1.59 and $2.65, respectively, in 2002.).
After Edward, Sr.'s death in 1943 he left the stock of the company to three of his sons, Christopher, Albert, and Clarence. By this time the depression had taken its toll on the company. The advent of electricity and the availability of refrigerators cut back considerably on the demand for ice, and supermarkets began to lure people away from the local food markets to buy their meat and produce. By 1946 the company stock had no value and they filed for bankruptcy.
The Abbott Packing Company building still stands today (2004) in Carnegie. The red-brick smokestack, with the yellow-brick-inlaid "ABBOTT" can be seen from the Parkway West (Rt. 279). The building is unoccupied and in disrepair, with just one section still in use by another type of business.
See photographs of an ice pick and a meat hook from the plant and a meat hanger.
Information for this sketch was taken from the following:

Biography of August Abbott in Memoirs of Allegheny County, Northwestern Historical Association, Madison, Wisconsin, 1904. Page 325.
City Directory of Carnegie, PA - 1907-08
City Directory of Carnegie, PA 1914-1915
Obituary of August Abbott, Carnegie-Item, December, 1920
Obituary of Edward Abbott, Jr., Carnegie-Item, December 14, 1933.
Obituary of Harry E. Abbott., Carnegie-Item, December 30, 1970.
Will of Edward Abbott, 14Aug1943, No. 7479 of 1943, Will Book 261, pg. 483. Registrar of Wills, City-County Building, Grant Street, Pittsburgh, PA.
Memories of Edward's grandchildren: Charlotte Abbott Dudt, and Harold Edward Donley.
Conversation with Carol at the Historical Society of Carnegie (PA). It was her grandfather who remembered the cattle drives down Jane Street.